...... Michele.
Thanks to Heather for reminding me to get out the hat from which to choose our next challenger. Life is just a bit busy here at the moment.My local, mainly traditional group has it's biennial two day quilt show with over 100 quilts starting tomorrow for the weekend. This is just one section: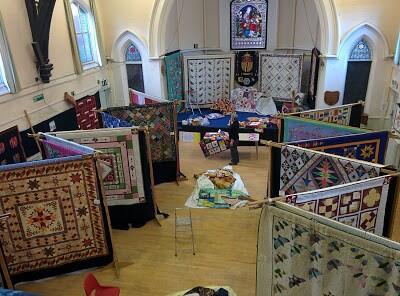 On Monday I get to spend five days with fellow quilters on a retreat in our beautiful Lake District. This was the view from my bedroom last year!
Then there's a breather, rather than a rest, whilst we spend a weekend with our daughter and family and the following Monday it's time to set up an exhibition of work by a local textile group that I belong to. It's wonderful stuff, and very exciting but I fear that I'm going to drop one of the spinning plates shortly!